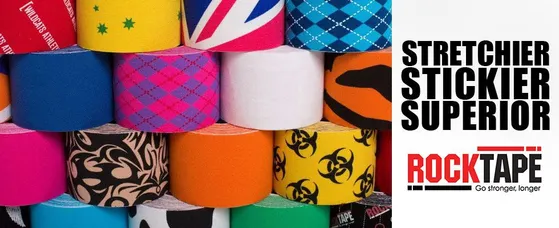 Rock Tape brand kinesio tape is latex free and can be worn for up to five days even after getting wet. Rock tape can help decrease pain and provides support and stability for joints and muscles without restricting range of motion. It can help facilitate the body's natural healing process by helping to reducing swelling and facilitating lymphatic drainage by microscopically lifting the skin. Rock Tape can help to decrease pain by targeting different receptors within the somatosensory system. Pre-taping assessments include gait and posture analysis, orthopedic testing, soft tissue examination, range of motion and strength testing.
The following conditions can be helped with kinesio tape:

Muscle and tendon injuries
Sprains and strains
Ankle Injuries
Cruciate Ligament Knee Injuries
Poor posture and gait
Dropped arches
Plantar fasciitis
IT Band syndrome
Bruises
Jaw and TMJ pain
Tennis elbow
Rotator cuff injuries
Meniscus injuries
Neck and back pain
Dr. Dumbadse is a certified level two "Rock Doc". Please call to see if Rock Tape brand kinesio tape can help you with your condition or to find out how it can enhance sports performance.